photo courtesy Singapore MIT Alliance program at NTU
WIRECAST - Webcasting Made Easy and Affordable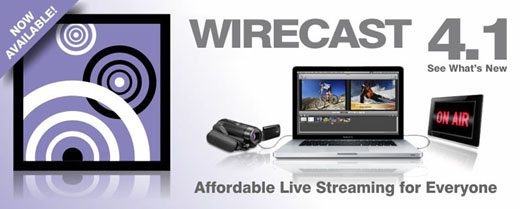 Wirecast enables you to produce affordable professional-looking webcasts of live events, business presentations and training programs using just a camera, an internet connection and a computer. Windows and Mac versions are available. With this software you can create software demos, record business presentations and host live webcasts, all with the look and feel of a live TV show.
Wirecast works with many pro and semi-pro hardware devices such as digital video cameras, VGA-to-USB adapters, and USB audio mixers. You can attach as many devices as your computer can support, and then switch smoothly from one source to the next as your show is transmitted and recorded.
When it comes to on-demand hosting or live webcasts, you can use our video hosting partner Netromedia, or choose from many others such as Limelight Networks, Livestream, Ustream, Justin.tv, Akamai, etc. Wirecast can simultaneously stream to different service providers or use different bitrates.
Wirecast supports different formats such as Windows Media (WMV), Flash, MPEG-4, and QuickTime. Save your finished productions to disk simultaneously as you are live broadcasting, for future archiving or on-demand distribution.
Buyer's Guide
Current version: 4.1.2. (Win or Mac)
Indicative pricing: US$ 700
More info: Wirecast website